-pops- wrote:

Perhaps not recipes then, but combinations of things that work well together e.g. chicken & leek, beef & tomato, and so on.
Another recipe here, -pops-...
CARROT, COURGETTE and CORIANDER Soup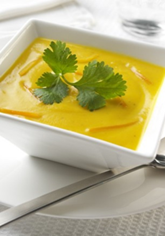 Serves 6
INGREDIENTS
• 2 tsp olive oil
• 1 onion, chopped
• 2 garlic cloves, chopped
• 1 leek, chopped
• 6 large carrots, chopped
• 2 large courgettes, chopped
• 1 litre chicken or vegetable stock
• 4 tbsp chopped coriander
METHOD
1. Warm the olive oil in a large saucepan.  Add the onion, garlic and leek and allow them to soften for a couple of minutes.
2. Then add the carrots and courgettes.  Stir and cover pan with a lid, turn down heat, and cook for ten minutes.
3. Add 1 litre of chicken or vegetable stock and simmer for 15 minutes, or until vegetables are soft.
4. Turn off the heat and use a hand blender to blend until smooth. Stir in chopped coriander and serve.