In addition to the driver's door and sill being crumpled by a hit and run driver on a car park a couple of weeks ago, the door mirror was also damaged. The lens covering the LED direction signal repeater built into the mirror unit was broken.  I happen to know (because a guy on the KIA forum broke his on his garage door frame) that you cannot buy just the lens – you have to buy a complete door mirror assembly which costs £510 fitted.
We have a single garage and the door opening is adequate – but not generous - which causes me to worry that one of these days either Libby or myself are going to misjudge the LHS of the car and hit the door mirror on the door frame. It's more likely to be me actually because I find it difficult to judge the clearance between the car and door frame on the LHS.
In addition – the garage is not all that deep and I have shelving on the bottom wall – so positioning the car front is also tricky. Many a time I have parked up and noticed (before I pushed the door closure button), that I have not gone far enough into the garage.
So I decided to screw some timber batons to the floor to ensure that the car cannot enter the garage too close to the LHS door frame and will always stop in exactly the right position to ensure the rear of the car is clear of the door as it closes.
It works a treat.
The garage was in a right mess with all the wood cutting, drilling and planing when I finished so I decided to reorganise and tidy the garage in addition to clearing up the mess.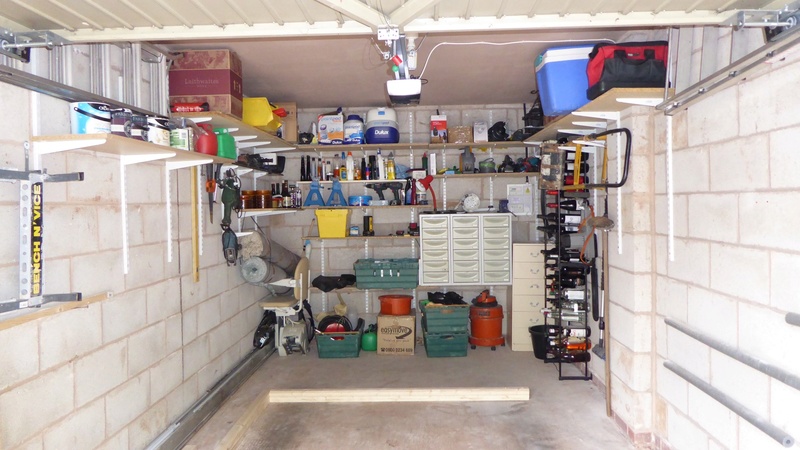 In this view you can see a wine rack which holds the excess bottles that cannot be accommodated in the house where the rack only holds 24 bottles. There are also some duplicate bottles of spirits in the rack for which there is no room in our drinks cabinet.
This is the stuff stored on the LHS of the garage – paint, tools, car stuff etc.
No – your eyes are not deceiving you – that is indeed a stair lift tucked away in the corner, on top of which are a couple of spare rugs. It was installed in the house when we bought it in 2013 and Libby insisted that it be removed. She didn't want to be reminded of our possible future every day. So I dismantled it and tucked it into the garage – just in case.
So that's another job completed – anyone care to compete with who has the tidiest garage?
___________________________________________________
This post may contain controversial personal opinion, humour,  ironic comment or sarcasm. If I have accidentally offended you - please contact me and I will unreservedly apologise. If however it was intentional - it will add to my pleasure.