We moved into our current house in June 2013 and inherited a rear garden lawn that was mainly moss, clover, meadow grass and chickweed.
In August 2013 I had it dug up and new (so-called high quality) turf laid. I also built a rockery at the end of the garden to give it some height.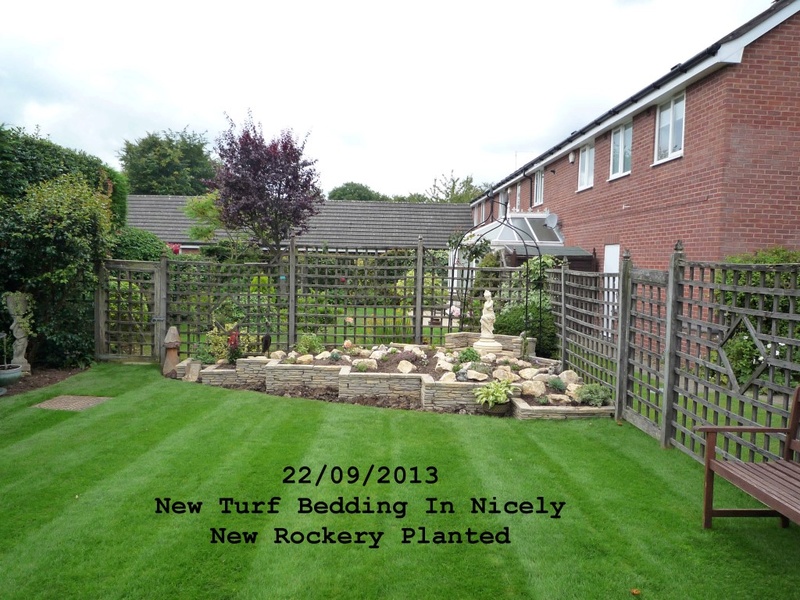 In September 2013 the turf seemed to be bedding in nicely – but I had to pull out a few weeds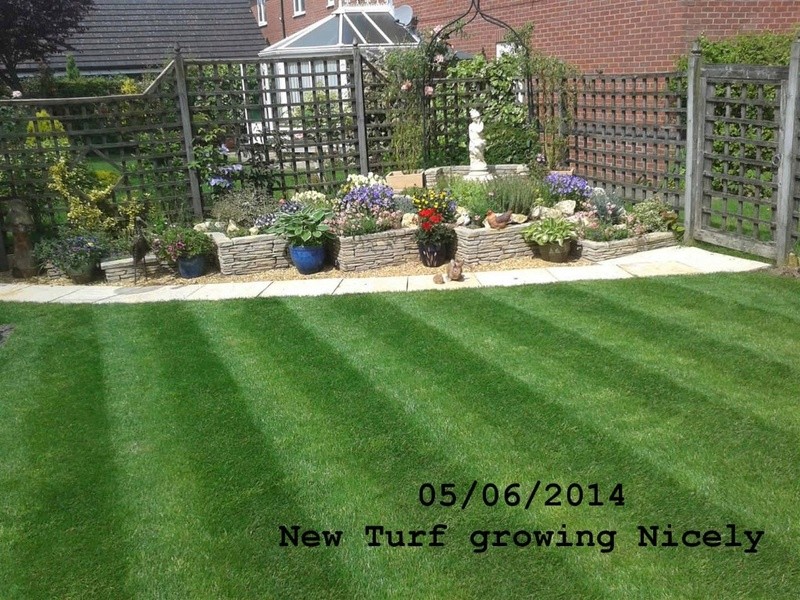 During 2014 the lawn looked quite healthy and gave no cause for concern.
This continued into 2015 but I had to do battle with some patches of Fusarium fungus and more weeds than you can shake a stick at. I scarified, weeded and fed the lawn spring and autumn and regularly mowed it.
In June 2016 the lawn was again infected with Fusarium fungus and a lot of coarse grasses were evident. Some odd patches of moss were present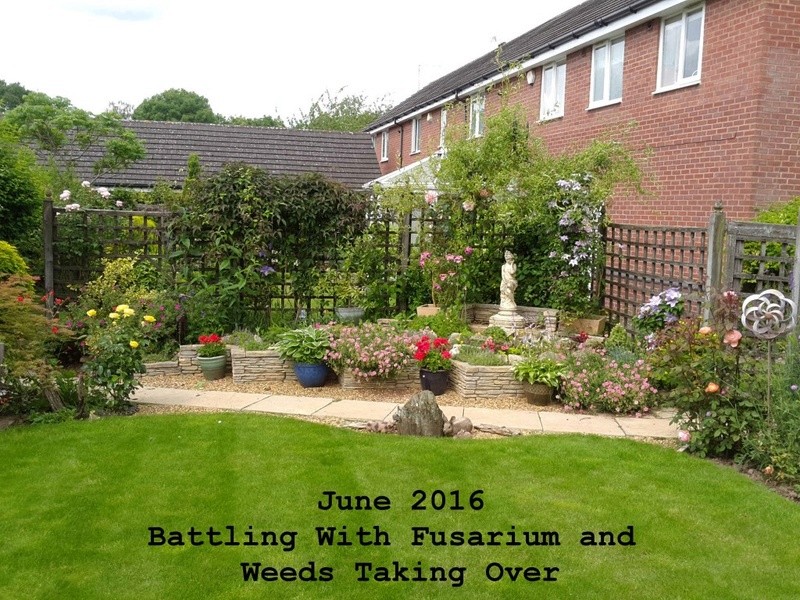 A lot of grass died during the winter of 2016 and as spring arrived it was in a sorry state despite my ministrations. It was obvious I was fighting a losing battle and decided to kill it off with RoundUp weed killer and get it dug up, topsoil stripped and replaced with new topsoil and Rolawn turf which is expensive but Wimblwdon and lots of stately homes and gardens use nothing else. My health precludes me doing any heavy work so it was a task for a garden contractor. I obtained quotes varying from a minimum of £1,100 and a maximum of £2,350 which was a bit of an eye opener.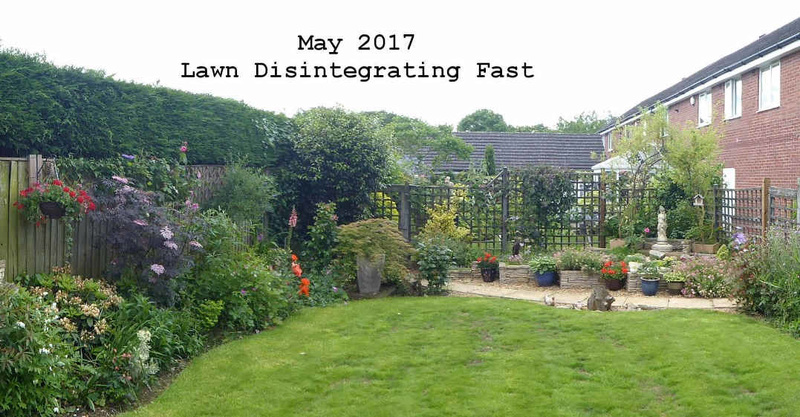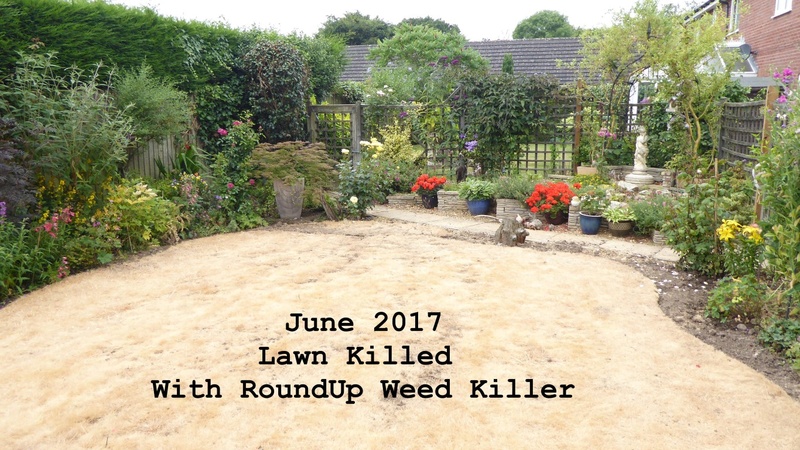 I then decided to do some research on artificial grass and obtained quotations for that. These were in the range £1,500 for an 18 mm pile grass and £3,850 for a 50 mm pile grass. The various contractors took me to see some of the lawns they had laid which convinced me that a 40 mm pile "carpet" would be fine and I placed an order for our 56 square metre lawn to be replaced with 40 mm pile artificial grass.
This involved removing the old turf with a motorised turf cutter and the removal of 75 mm of topsoil. The ground was then levelled and given a bashing with a wacker plate. They then added a 75 mm layer of crushed limestone and wackered that level, followed by 30 mm of sand which was again wackered level. Then came a fabric weed membrane followed by laying the grass and pegging it with 300 mm long galvanised spikes around the periphery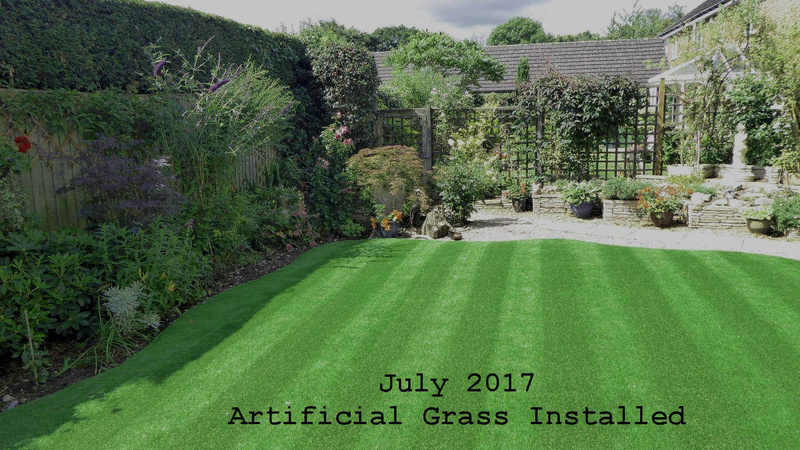 I am well pleased with the result. I am now free of mowing, weeding, scarifying, aerating and all the other chores associated with keeping a nice lawn. My cordless Bosch mower, scarifier, fertiliser spreader etc are all now for sale and I am one happy bunny.
___________________________________________________
This post may contain controversial personal opinion, humour,  ironic comment or sarcasm. If I have accidentally offended you - please contact me and I will unreservedly apologise. If however it was intentional - it will add to my pleasure.